For the past twenty five years, the Tewksbury Education Foundation (TEF) has been committed to gathering resources to preserve a vibrant learning environment for all students in Tewksbury Township School District. The generous support of our donors is what allows the Tewksbury Education Foundation to fulfill its mission. Donations are the key to funding innovative, non-budgeted programs in our schools and mini grants for our teachers. We appreciate the tremendous support we have received from our community of contributors. The TEF is a 501(c)(3) organization and all donations are tax deductible.
Private Donation
Thanks to the generosity of donors like you, the TEF makes a difference in the lives of Tewksbury's students every day by providing critical funding for academics, enrichment, fine arts programming, STEAM innovation, health and wellness, scholarship and more. We are incredibly thankful for the tremendous support we have received from our community.
HAVE YOU BEEN FLOCKED? The Barn Dance is our biggest fundraiser of the year. Unfortunately, this May, we couldn't all come together in cheer. So, we had to get creative and find other ways to raise money. We thought a lawn full of flamingos would bring smiles and be funny! If you've been flocked and/or you want to flock a friend please…
Donate Here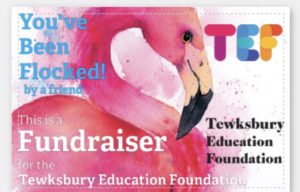 Please complete the form provided with your flock or email us to let us know who you'd like to flock (TewksburyTEF@gmail.com). 
Corporate Donation
Does your company give back to schools in a big way? Do you want to be an educational partner with the TEF? If so, you may be interested in our sponsorship opportunities which offer promotional benefits that can reach over 600 people. There are many different sponsorship levels with benefits for all sponsors. We can also customize a package for your company.
For information on sponsorship opportunities, click: TEF Corporate Sponsorship Request Form 2019-2020.
Donate Online
$50 One Time
$100 One Time
$250 One Time
$250 Recurring
$500 One Time
$500 Recurring
$1000 One-Time
$1000 Recurring
Name Your Donation
Donate by Mail
If you'd prefer to mail a check, simply make it payable to the Tewksbury Education Foundation and mail it to:
Tewksbury Education Foundation
P.O. Box 448
Oldwick, NJ 08858